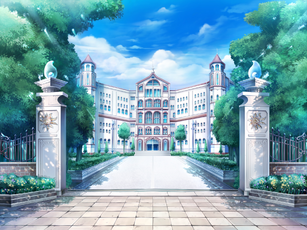 Seifuu Academy is a grand fictional elementary school (grades 1-6) of the anime series Shugo Chara!
It is first mentioned in episode 5 where Yamada is first introduced. It is a famous school for soccer. They won the country wide tournament the previous school year.
Seifuu Academy is described as a "gaudy" and "expensive-looking" school. Kaori stated that the school is an academy for prestigious and wealthy children, and it is a high class school mostly containing "spoiled snobs." Kaori also stated that if one person from Seiyo Academy was to embody the characteristics of Seifuu, it would be Yamabuki Saaya.
On Campus Locations
Edit
The Lion Fountain
The Greenhouse
The Student Council Meeting Room - The headquarters of the Royals, where they meet to do daily Royal work.
Students
Edit
Ayaka Kaori (Formerly)
Himura Daisuke
Uchiyama Kaitestsu
Mashiro Tomoe
Wakahisa Takato
Uniforms
Edit
Seifuu Academy Uniforms - Brown blazers and pants with green ties.
Seifuu Cravats - Only worn by members of the Royals.
There consists of only two major homerooms per grade: Class Opal and Class Amethyst. Some classes students have been seen taking are: Home Economics, Math, Japanese, Financing and English.
Class Opal Members:
Edit
Himura Daisuke
Uchiyama Kaitestsu
Mashiro Tomoe
Class Amethyst Members:
Edit
Clubs/Teams
Edit
Seiyo Academy has a number of clubs and teams, including:
The Royals - Seifuu Academy's student council. Daisuke is the President of the Royals, and Takato is the Vice President.
Soccer - Seifuu Academy has an outstanding soccer team, as shown by the fact that they tied a game with the team from the most prestigious school for soccer. It is mentioned by Kaori that they have an all male team, meaning that no females are allowed to try out for the team. Some members include Himura Daisuke and Wakahisa Takato
Basketball
Volleyball
Judo
Baseball